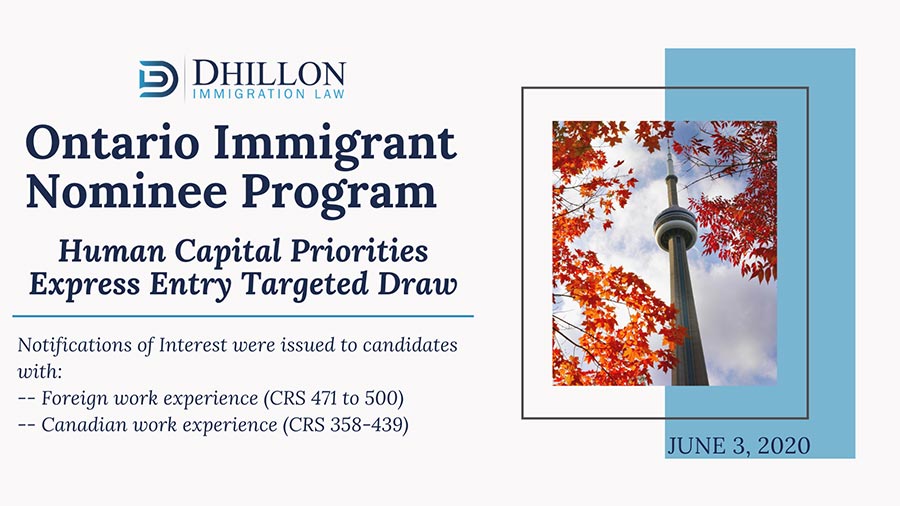 ONTARIO PNP HOLDS A TECH DRAW ON JUNE 3, 2020
The Ontario Immigrant Nominee Program (OINP) – Express Entry – Human Capital Priorities issued 699 Notifications of Interest (NOIs) on June 3, 2020! This draw targeted a number of "Priority Occupations" and targeted both those with one year or more of Canadian experience and Foreign work experience. The lowest CRS points required also fell to 358 since the last draw, which occurred on May 13, 2020! Those with Canadian work experience needed to have CRS points between 358 and 439; hots with foreign work experience needed to have CRS points between 471-500.
The following are the list of targeted occupations:
0111   Financial managers
0114   Other administrative services managers
0124   Advertising, marketing and public relations managers
1111   Financial auditors and accountants
1114   Other financial officers
1122   Professional occupations in business management consulting
3012   Registered nurses and registered psychiatric nurses
3124   Other primary health practitioners
3132   Dietitians and nutritionists 
Great news to those who will be nominated, as they will gain an additional 600 CRS points towards their #expressentry CRS score! The PNP Programs are a great way to boost your Comprehensive Ranking Score, and increase your chances of becoming a Canadian permanent resident.
If you would like to know more about how the OINP program works and whether you are you eligible to apply, contact Dhillon Immigration Law and book a consultation for a reduced fee: https://www.dhillonimmigration.com/contact-us/
#OINP #ontario #canadianimmigrationoptions #workincanada #liveincanada #toronto #ad #canadianimmigrationlawyer #provincialnomineeprograms #tech #h1balternative #h1boptions#canada #permanentresident #expressentry